Don The Beachcomber
Grand Member (first year)



Joined: Dec 28, 2004
Posts: 205

Posted:

2015-07-30 8:46 pm

&nbspPermalink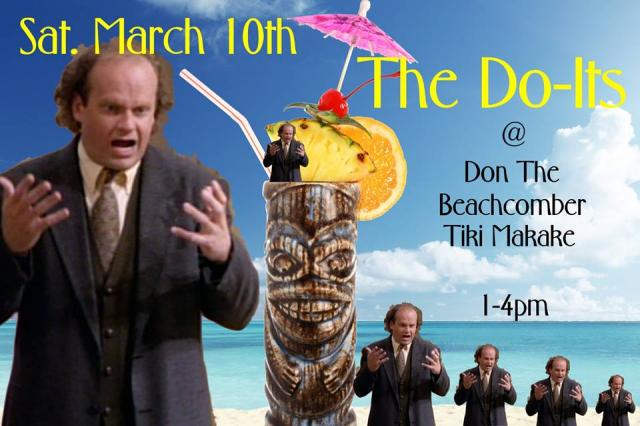 Celebrate the Holiday's in Tiki Paradise at the
"Tiki Mâkeke" at Don the Beachcomber
in Huntington Beach, California on Saturday, December 9! Expect your favorite returning and new Artists/Vendors!

The is a public event.
All ages are welcome.
14 years old and younger are FREE!
Admission Adults $10 (cash only).

Entertainment:
CHIEF OF THE OC & DANCING HULA WAHINE'S
KIMO
THEE SWANK BASTARDS

Vendors & Artists:
B-REX
BAMBOO BEN
BEACHDUDE, INC.
BIGTOE ART
BUZZ RHINO
CALWISE SPIRITS, CO.
CLEE SOBIESKI
COOL GEE
DEADHEAD RUM
DOUG HORNE
FANCY FRUITS
FREAKY TIKI
GO TIKI
GRIDER
HART WARMERS
HAWAIIAN IMPORT
JOHN VON FROND
JOHNNIE VELOUR CERAMICS
JUNGLE GINGER
JUNGLE MODERN CERAMICS
KAPALUA DESIGNS
KEN RUZIC
KUSTOM KRAFTS BY KITTY
LAKE TIKI
LEILANI LOVES VINTAGE
LOWBROW TIKI
LUG IT BAG CO.
LYNN MCGUIRE
MAHALO TIKI
MATT "THE TIKI MAN" WILLIS
MAUI HAL
MOONSHINE MAMA'S HANDMADE ACESSORIES
MS FORMALDEHYDE
OB TIKI
OUT1IN3 ISLAND
POWER POP EXPLOSION!
RARABIRD
RAWFORMED JEWLRY
REESENIK'S GONESVILLE
RETRO RUTHIE
RICK KESS
RON MONSTER
SECOND CHANCES
SHAWNA TICE
SMOKIN TIKIS
STILETTOED DEVIL
SURF CITY HAWAIIAN SHIRTS
SWEET SIREN DESIGNS
TANDUAY USA
TEE-KI TOGS
THE RESTLESS NATIVE
THOR
TIKI AL
TIKI BONGOS
TIKI DIABLO
TIKI GONZO
TIKI POPS
TIKI SWAG
TIKI TONY
VICKI'S TIKI MOON ART
VINTAGE SURF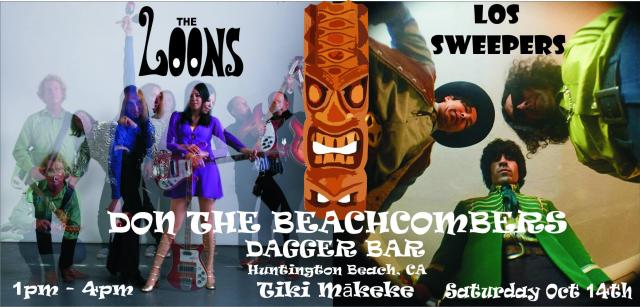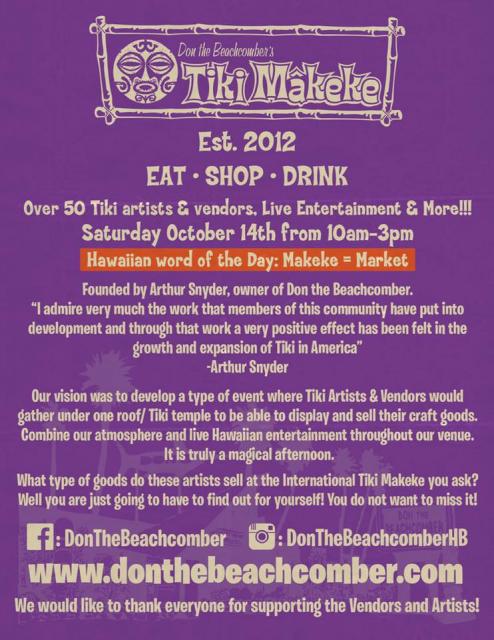 The Tiki Makeke at Don the Beachcomber on Saturday, September 9 in Huntington Beach will feature your favorite new & returning vendors!!

Bamboo Ben
Big Toe Art
Buzz Rhino
C-Ya in California
Calwise Spirits, Co.
Clee Sobieski
Cool Gee
Crazy Al
Culture Cove
Doug Horne
Elly Karipides
Fancy Fruits
Freaky Tiki
Go Tiki
Grider
Hart Warmers
Hawaiian Import
Henley Woodworks
John Von Frond
Jungle Ginger
Kapalua Designs
Ken Ruzic
Leilani Loves Vintage
Lynn McGuire
Matt "TikiMan" Willis
Miss Nouvelle
Moonshine Mama's Handmade Accessories
Ms. Formaldehyde
Nalani's Closet
Nelson's Tiki Hut
OB Tiki
Out1in3 Island
Poly Hai
Pop Culture Explosion!
Rarabird
Rawformed Jewelry
Retro Ruthie
Rick Kess
Ron Monster
Second Chances
Shawna Tice
Smokin' Tikis
Stilettoed Devil
Surf City Hawaiian Shirts
Sweet Siren Designs
Tee-Ki Togs
The Restless Native
Thor
Tiki Al
Tiki Bongos
Tiki Gonzo
Tiki Pop
Tiki Tony
TikiGuy Studio
Tikiology
Tikiyaki Orchestra
Trader Pup's Outpost
Vicki's Tiki Moon Art
Vintage Surf

*Rum Barrel mugs will be available for $45! While supplies last!!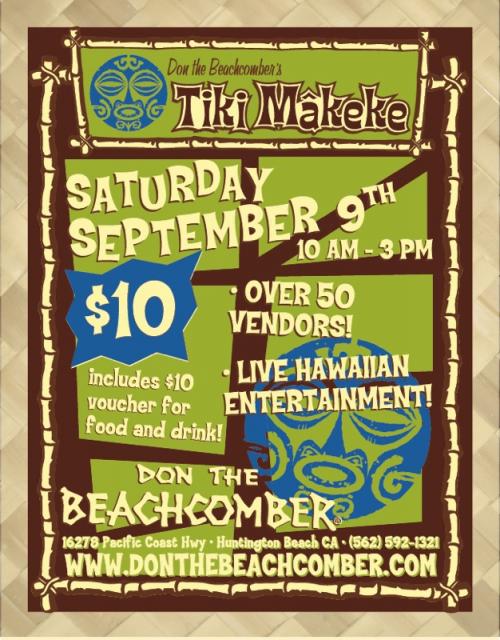 [ This Message was edited by: Don The Beachcomber 2018-02-02 15:39 ]

&nbsp


&nbsp