Ragbag Comics
Tiki Socialite

Joined: Feb 24, 2009
Posts: 199
From: The shores of Lake Michigan


Posted:

2017-07-11 10:46 am

&nbspPermalink

Thanks for all the kind words - hope folks are enjoying the updates!

Had some more friends stop by Sunday and gathered a few more shots of the bar, picking up some more details... Those new I-Phone cameras really do a heckuva job in low lighting...

A shot of the main bar seating area with a little better view of the main wall of mugs...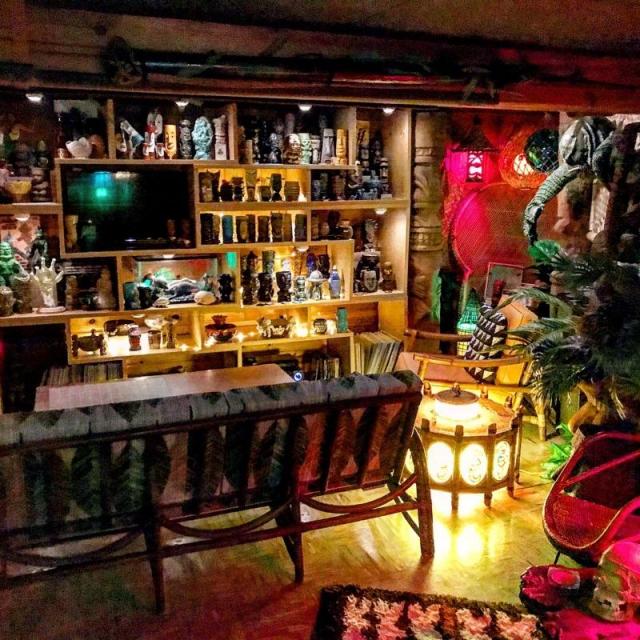 A shot of the bar area - we lined the entire back wall with old menus, stickers, old postcards and photos, etc... we wanted the place to feel like it's been there forever. That's always a really important thing to me when I enter a Tiki bar (especially a new one) is that there's that feeling of layers and time passing... so I spent the better part of a day hanging cork and hundreds of little pieces of ephemera behind the bar. You can KINDA see that here... We also found an awesome vintage gong to hang behind the bar.

The bright yellow piece sticking out is actually a vintage Tiki torch, and the Tikis on the tops of them (there are two, flanking the bar back) actually look like the old Zombie Village logo Tiki! Our friend found them at an estate sale and we couldn't pass them up... I velcro'ed little tea candles to the tops to "simulate" flames (even though it really looks nothing like a flame... kind of a fun touch.)

The wooden alligator hanging over the bar is from PNG... we tied him to a couple little bamboo poles and hung some shrunken heads from either end, because why the hell not? It helps hide the little piece of track lighting that shines on the bar back.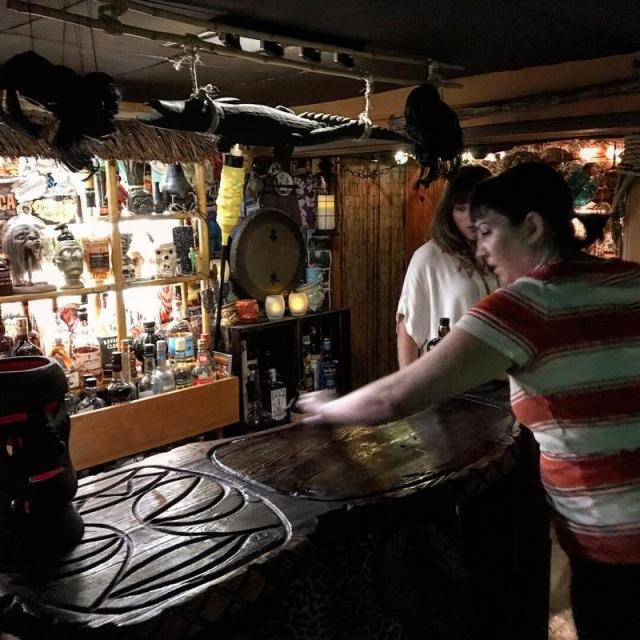 The main seating area, featuring my wife Katie and our dog Wilma and our friend Erin...The big green lamp on the floor fell down over the weekend (!!) and needs to be hung up again. The ceiling is just fiberboard, so some ceiling hooks stay in better than others... unfortunately it's almost impossible to tell where the joists are underneath to screw into. The basket lamps aren't heavy, so we figured it was fine, but evidently not. Thankfully nothing broke!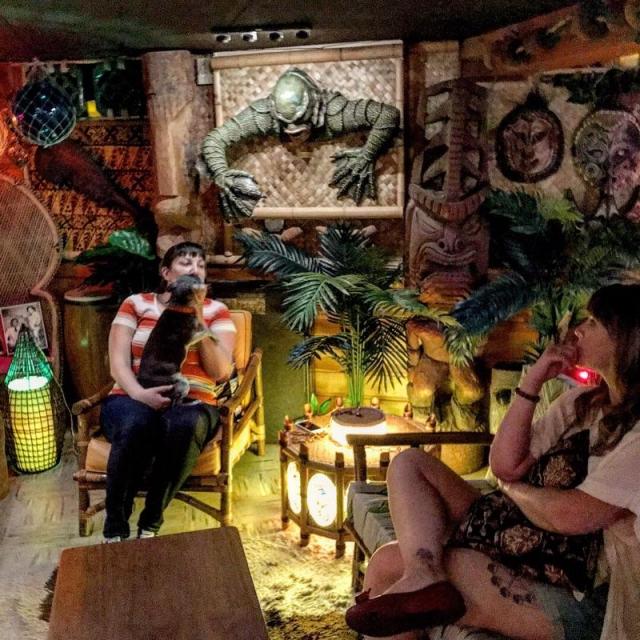 ...and finally, a shot of our official Black Lagoon Room glassware in action!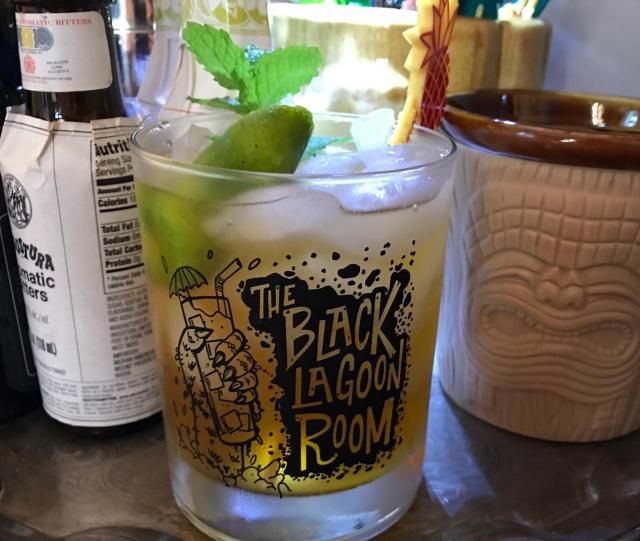 I'll have some of these up in my Etsy shop soon (Store, and my Instagram handle, are both crap_with_a_star) for anyone interested.

More stuff soon - thanks again for all the kind words!

--Pete

&nbsp


&nbsp