Prikli Pear
Tiki Socialite

Joined: Jan 04, 2017
Posts: 607
From: New Braunfels, Texas


Posted:

2017-09-05 2:27 pm

&nbspPermalink

I've posted quite a few of these build-alongs thus far, but have not yet spoken about bamboo in any great length. In light of that, you may consider this something of an interlude. I don't actually build anything here, but I do show some of the prep work that goes into preparing bamboo for use in tik bar construction. Bamboo Ben, TikiSkip and others are far more experienced than I, so if you need advice, go to them. This is just a process I've developed via trial-and-error for my limited needs.

There are two things about torching bamboo that I did not expect. First, the green culms, when toasted, smell wonderful. Dried ones smell charred and nasty, but semi-fresh, green bamboo emits this savory odor that reminds me of hot dogs and spring baseball. How's that for weirdly specific imagery? Secondly, I find torching bamboo oddly relaxing. I can sort of zone out and let inertial take over, shutting down my higher brain functions. It's almost like meditation, I suppose. I wouldn't have expected that, but there it is.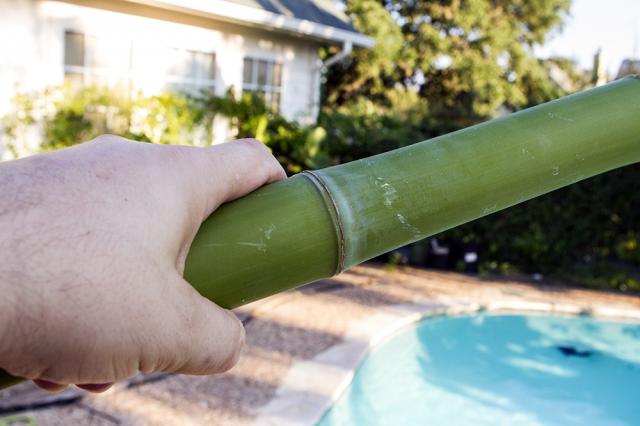 Most of the bamboo I have access to is, I think, the Golden Bamboo variety. Which is a runner and invasive, but it's contained by geography to a tight thicket. The largest culms I've found are just over 2" wide, which is good for my use--no big timbers here. I'll let them dry a little for a few weeks before applying flame. If I'm busy, it takes longer to get to them. Either way, they're usually still some kind of green. Torching fully dried bamboo that's turned a pale yellow is a pain.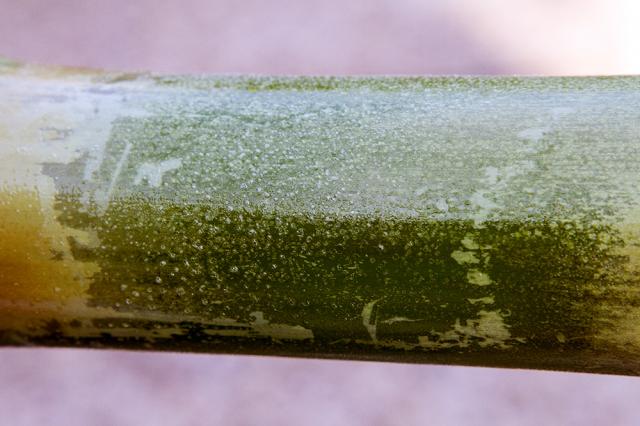 When you apply flame to fresh(ish) bamboo, the natural resins boil up to the surface. You can see that here, in the white droplets. Rub this down with a rag to spread the resin evenly over the bamboo surface to get a polished, shiny appearance that has some degree of weather resistance. It'll wear off with exposure to the elements, but it's a good, natural protectant.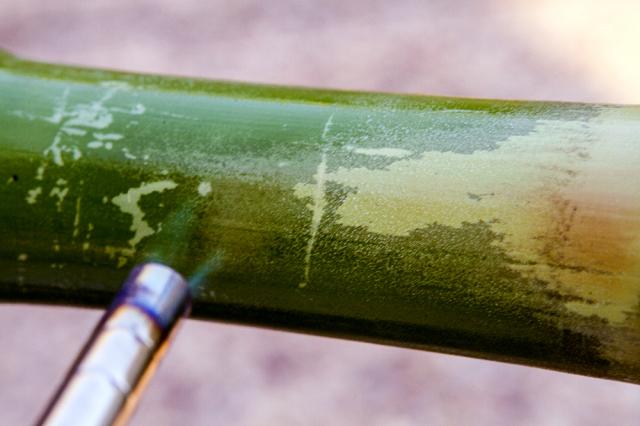 Torching green bamboo is almost fool-proof. The color change is dramatic and striking. As the resin boils up, the bamboo will go from bright green to drab olive. When the final heat change happens, it goes from olive to tan instantly. What's more, it changes is abrupt sections. It's crazy--it looks almost pixellated, like an obscure Atari game from the early 80s. It's impossible not to notice.




Once all of the culm has changed color, I'll go back over the nodes to apply a bit more flame. That results in deeper contrast. When torching bamboo, I use just a simple butane torch from the hardware store. Nothing fancy. I do a segment at a time, rotating the culm as I brush the flame back and forth with deliberate strokes. Note that the nodes are solid and the internal segments are air-tight, so if you're torching smaller bamboo pieces, the water in the wood will steam, build up pressure and burst the culm. This is startling if you don't expect it. I either knock the nodes out with a long piece of rebar for the larger culms, or use a tiny drill bit to punch a hole near the nodes. Either way, a hot air/steam mix may blow out, so watch that you don't accidentally burn yourself.




Once heated, the bamboo hardens and loses any flex it once had, so if you plan to bend it into shapes for lamps, furniture or other creative uses, best be sure to bend it into that position before applying flame. Personally, I need straight pieces now for wall trim, etc., so I'm torching them as-is.




Of course, 8' bamboo poles take up a lot of room and can get in the way. Even after torching, they need to dry out and lose that extra water. I solved my storage problem with a few pieces of PVC pipe I hung from the garage roof. I've got a dehumidifier I run if the weather gets too wet and the garage too damp. Most of the time, however, the climate in there's pretty favorable for the bamboo. Up out of the way, it sits there minding its own business until I need it. And I've needed quite a bit lately.

For anyone who's interested in such things, I've a longer writeup on my blog.

&nbsp


&nbsp