bobtiki
Grand Member (2 years)


Joined: Apr 12, 2006
Posts: 52
From: Seattle


Posted:

2017-07-03 11:47 am

&nbspPermalink

Tiki friends,

You may remember me from my Raspberry Pi-controlled erupting volcano in my home tiki bar, Kilauea Cove. But every tiki bar should have its own tiki mug, right? I'm excited to tell you that I'm making my first small batch of tiki mugs for Kilauea Cove.

Kilauea being the home of Pele, the Hawaiian goddess of fire and volcanoes, the mug features Pele emerging from the surface of a volcano, with large cracks where lava will show through — and assuming my glaze test are successful, a detailed cracked lava surface texture over the majority of the mug.

Artist's concept drawings of the glaze variants (the "Wood" variant is now totally sold out):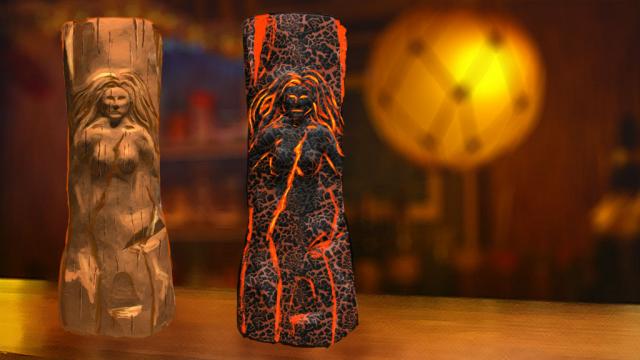 If you'd like to know more, or even back my project and get a mug of your own, take a look at the master sculpt and concept drawings of the glaze variants on my Kickstarter page:

https://www.kickstarter.com/projects/bobtiki/pele-tiki-mug-from-kilauea-cove

We actually had sold out of the Numbered Limited Editions, but after much soul-searching and schedule planning (and hiring my daughter to help), we are making more mugs available!

They're not numbered like the original batch, and they'll ship a couple of months later.

There are risks and challenges since I've not done a production run of this scale before, but a lot of testing and hard work is coming together to make sure this mug is a success. Even if you don't back a mug, I'll post public updates on Kickstarter (and probably here on TC) as the project progresses, and I hope you'll find it interesting to follow along.

Thanks,
Mark Boszko (@bobtiki)
_________________
@bobtiki on TweetFace, et al.
In progress: Pele Tiki Mug
Kilauea Cove



&nbsp


&nbsp



bobtiki
Grand Member (2 years)


Joined: Apr 12, 2006
Posts: 52
From: Seattle


Posted:

2017-07-03 11:47 am

&nbspPermalink

Thank you to everyone who backed the project! I'll be posting updates to the Kickstarter page as things progress, and most of the in-progress updates will be public, so you can follow along even if you didn't back the mug. I'll also be posting updates in this thread.

Thanks!

[ This Message was edited by: bobtiki 2017-07-20 14:12 ]

&nbsp


&nbsp