Hamo
Grand Member (first year)



Joined: Aug 22, 2016
Posts: 681
From: Colorado (via Iowa)


Posted:

2018-02-15 9:40 pm

&nbspPermalink

Okay then, cogitate on these humble suggestions:

You'd mentioned wanting a clear division between the tiki room and the rest of the house. If you turn the stairs 90 degrees and enclose it with a partition wall, you could create that "antechamber" feeling and cause people to turn their bodies multiple times to enter, thus accentuating the distinction. It would also add some wall space to hang things on, and give the room some interesting dimension beyond a open "box." If you moved that one exterior door to the base of the stairs, it could better utilize the space, and share in that antechamber feeling, too.

And what if your table had an L-shaped booth? It would be less confining at the bar, and you might be able to add a few more chairs around the side.

I made a few quick sketches to help illustrate what I mean.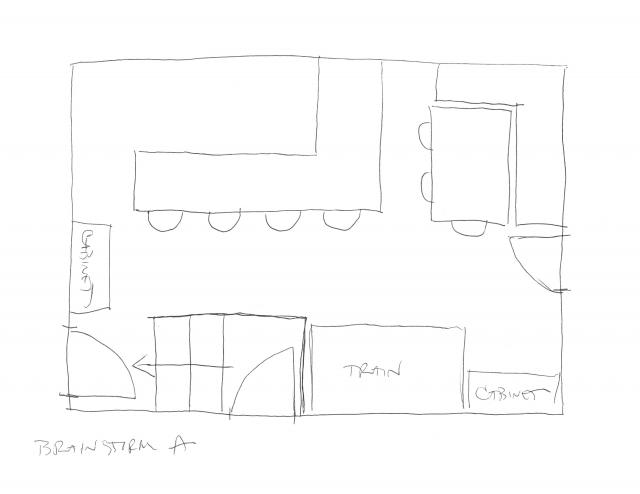 You might also consider swapping the locations of the train layout and table so things aren't so crowded in that corner by the bar.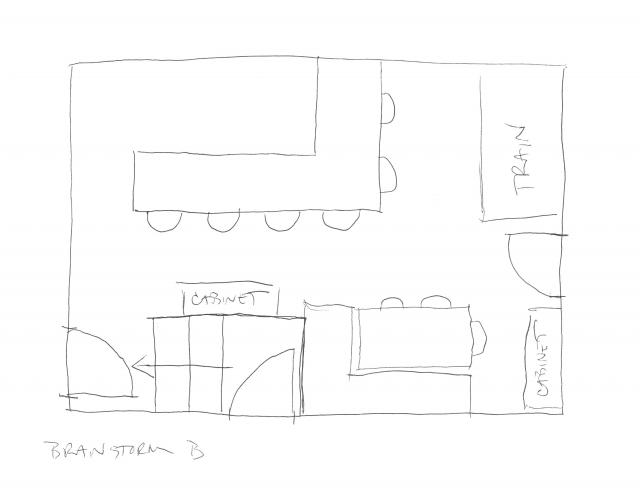 Or you could keep the perpendicular booths, put up another partition wall and move the other exterior door to make another enclosed entrance. This might also allow for building a "hut" around the table and booths.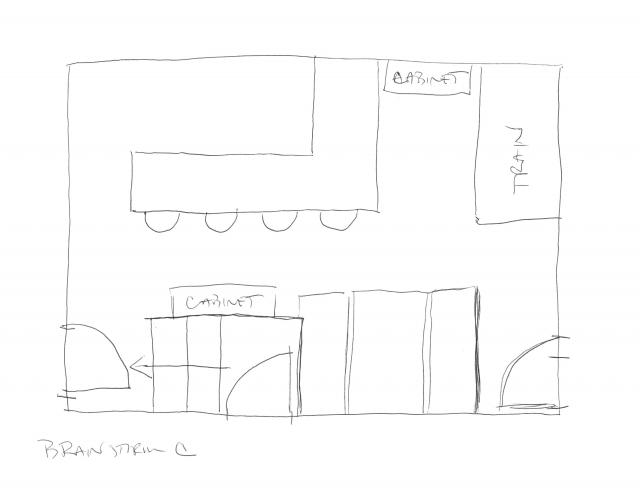 Obviously I don't know your room dimensions, so these sketches aren't to scale, and these thoughts might not work in reality.

Another way to provide separation of spaces at the doorways might be to hang curtains to create "foyers." I don't know if they all had these, but a few years ago, an Old Navy store near me had a "quick change dressing room," which was essentially a half-circular rod with curtain attached to the wall in front of a mirror. You could hang something similar in front of your exterior doors. I was recently in a downtown Denver restaurant that has a similar setup serving as an airlock to keep out the winter weather. (Sorry; no crude drawing of this...).

&nbsp


&nbsp