White Devil
Deleted

Joined: Jun 26, 2009
Posts: 0

Posted:

2013-06-21 10:18 am

&nbspPermalink

In the process of purchasing this early American mug from TennesseeTiki (whose mug photos appear below), I found a bit more information about the origins of this figure, which as it turns out, is an Anglo interpretation of a Northwest Coast Indian totemic interpretation, and was referred to as "The Potlatch Bug."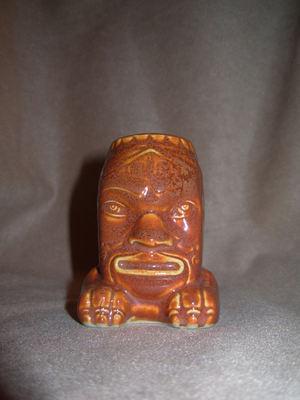 Here is a condensed extract of the longer essay (linked at the end)...

"Seattle's Potlatch was first organized in 1911 to celebrate the city's booming prosperity and capitalize on the popularity of the 1909 Alaska-Yukon-Pacific Exposition. Potlatch was the brainchild of Seattle's biggest downtown promoters: the Chamber of Commerce, both major newspapers, the Post-Intelligencer and The Seattle Times, and the brand-new Seattle Advertising Club.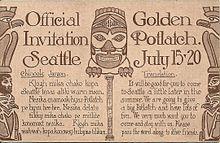 "The Potlatch Bug was the festival's ubiquitous emblem: a "grotesque from a totem pole," as the Ad Club put it, "[that] grins and grins and grins, yet always with good nature." The Bug was produced as an automobile emblem, made of enameled brass, and as a lapel pin, identifying the wearer as a Potlatch Booster. The Bug image appeared on stationery, posters, postcards, and banners -- even on local candy and coffee labels.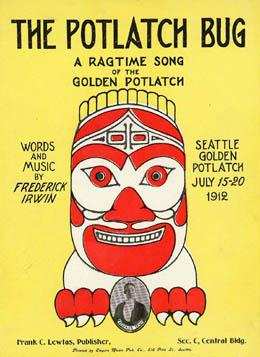 "Under the rubric, "Get the Bug," members of Seattle's Knights of Columbus were encouraged to meet the Bug High Priest for initiation "into the mysteries of the ancient and honorable order of Potlatch Bugs." The initiation was a mock injection of "the Sacred Virus of the Great Bug," administered by an Ad Club member who attended the meeting in full regalia.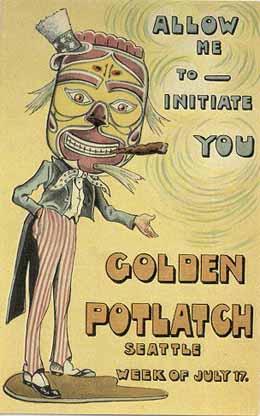 "The 1913 Potlatch didn't turn out to be a very "good time," as a violent and destructive riot* swept the city after the parade. But the Potlatch Bug and the adapted Native American iconography that it represents reflect an interesting period in Seattle's urban history, when the bustling, modernizing city sought to characterize its summer festival with misappropriated Indian motifs, seen as romantic, exotic, picturesque, and distinctly Northwest.

By Lorraine McConaghy, July 11, 2007

http://www.historylink.org/index.cfm?DisplayPage=output.cfm&file_id=8213

The Potlatch of 1938, from whence this mug originates, was marred by its beauty queen's discovery that her husband was a bigamist...

http://news.google.com/newspapers?nid=860&dat=19390320&id=kU8hAAAAIBAJ&sjid=RYMFAAAAIBAJ&pg=6657,3071219

In the spirit of diversity, the Seattle Chinese community was represented in the Potlatch parade of 1938, a photo of which can be found here...

http://content.lib.washington.edu/cdm4/item_viewer.php?CISOROOT=/imlsmohai&CISOPTR=3849

*The riot was sparked by a confrontation between anarchists/leftists and some soldiers & their supporters: see here...

http://radsearem.wordpress.com/2011/07/17/july-17-1913-the-potlatch-riots/
_________________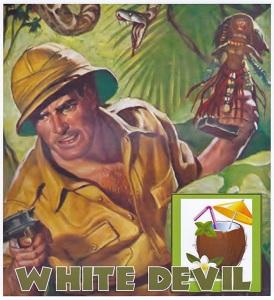 [ This Message was edited by: White Devil 2013-06-21 12:37 ]