Sabu The Coconut Boy
Tiki Socialite

Joined: Aug 20, 2002
Posts: 2802
From: Carson, California


Posted:

2003-09-19 5:25 pm

&nbspPermalink

I know that Martin Denny lp cover-model Sandy Warner is supposed to be everyone's favorite Exotica Girl, but frankly, I'll choose Miss Kauai any day of the week.

A favorite model in Hawaii from 1963 to 1969, she is probably best known among tikiphiles for this postcard: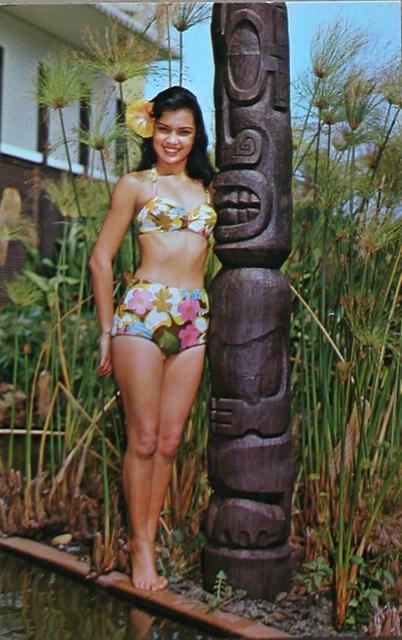 Which can still be found on ebay fairly frequently. The trick is to look for her picture in large lots of Hawaiian postcards for sale. When she comes up alone with the word "Tiki" in the auction, she's pretty expensive ($20-$30 range), but if you can spot her among 20 other postcards in an auction labeled "20 1960's Postcards, Hawaii", then you can pick her up for a few bucks.

I began to notice Miss Kauai on other postcards as well, so I began to collect her as little tiki side-dish. Most of these postcards are dated 1966, so I assume here reign as Miss Kauai must have been 1965 or earlier. I've got four of them and am always looking for more. Here's my collection so far.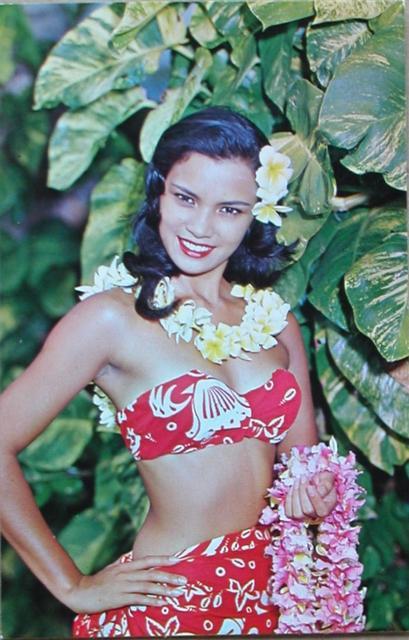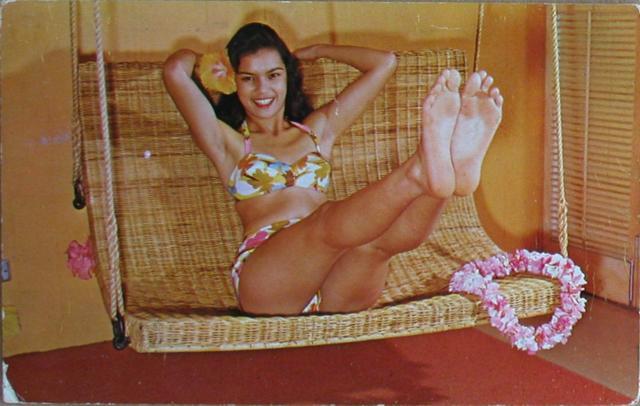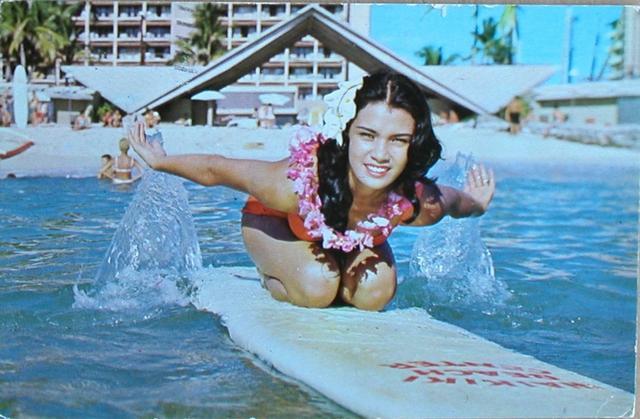 The postcards state her name as Elithe Aguiar
and say that she is part Hawaiian, Portuguese, and Chinese. I've done a little more research on the web and found out that Elithe Aguiar has other tiki connections as well. She played the Hula Instructor in the 1973 Brady Bunch tiki episode, in the scene where Alice throws her back out during the Hula because of the cursed tiki. She also appeared as various characters on Hawaii 5-0 and on McCloud as well.

Evidently she used the modeling as a springboard to a career in public relations, then went on to become a stewardess for Aloha Airlines, then went into acting and writing children's stories.

She is now Elithe Kahn and she and her husband still live in Honolulu. Purportedly she now owns two businesses; the Hair Depot, and the Hawaii Hypnosis Center. Maybe Gecko can look her up and find out where that first tiki photo was taken?

By the way, that tiki in the first postcard also appears elsewhere. Here is a vintage shirt box from the McInerny Department Store in Honolulu during the 1960s. It looks like they grabbed the image right off the postcard:



Sabu


_________________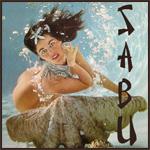 [ This Message was edited by: Sabu The Coconut Boy 2009-07-24 22:10 ]

&nbsp


&nbsp