crazy al
Tiki Socialite

Joined: Jun 25, 2002
Posts: 1872
From: CA


Posted:

2004-02-23 11:27 pm

&nbspPermalink

Can't believe I had to go all the way to NY to find another pair of coconuts!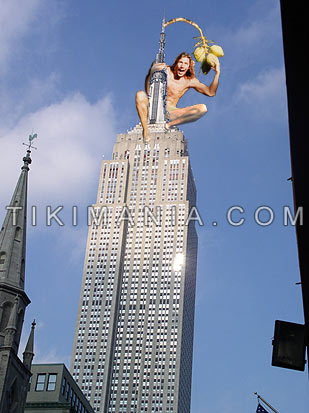 Talk about the city that never sleeps....
I think I slept about 48 hrs straight since I got back.

well, better late then never... here is the tiki-round up of the trip to NY....

Monday Night: Finally reunited with the Fisherman and my tikis #53&54 at Otto's Shrunken Head!! Thanks Inky! for posting the great pics.
Steve Pang has done a fantastic job putting finishing touches to the joint. It looks great!! And what a host, not to mention giving every Monday night to the Fantastic Fisherman's Vibraphonic Trio!! Eric, from my band Ape, was in town again and sat in with his steel guitar! The guys let me sing a song or two to a full house and enjoy their music coming right out of #53&54!!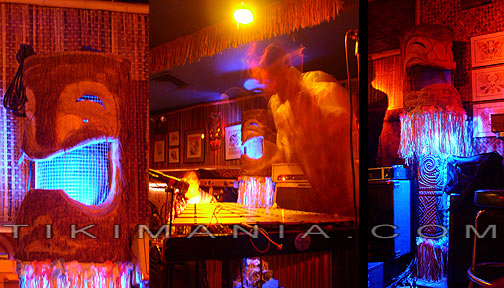 Steve had me carve them for speaker cabinets! They Rock!
And he put them atop posts carved by the Almighty Leroy of Oceanic Arts... Cool man!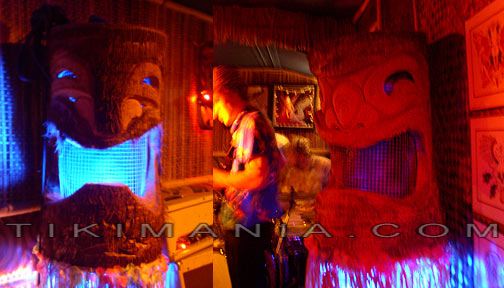 Thursday Night: Another reunion! Great to see tiki #45 "Hang Good&Plenty" again. My first time seeing Waikiki Wally's... and there was #45 behind the bar over seeing the drink allotments.... I designed him to hold a coconut or assorted fruits in his hands, but that night he held a tiki mug! Nice!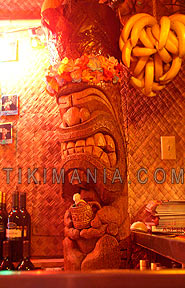 Thanks to my TC host for the week, the beautiful Miss. Inky Louise! Hula dances and Beer slamming!
Here we are at the 150-year-old McSorley's with Ron Peters, the designer/manufacturer of the Burning Tiki Antenna Topper!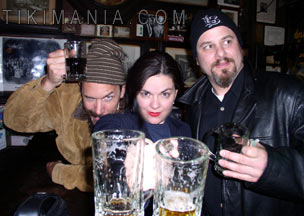 Ron is the reason for the trip to NYC. He had a booth at the world famous Toy Fair Convention. Seeing as a large part of my income is sculpting toys, I volunteered to work his booth with him and work the crowd....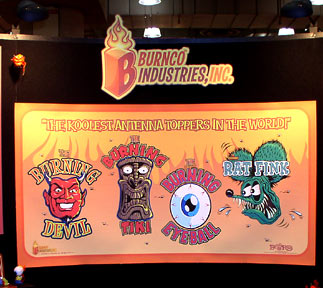 He has new designs for putting his little bastards on Bike handlebars and bodies for dashboard ornaments.


order them up at http://www.burncousa.com/

Tiki was not just at our booth!! Check it out!!! Barbie watch your ass!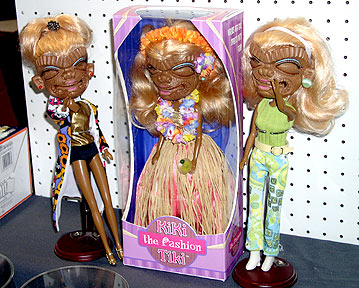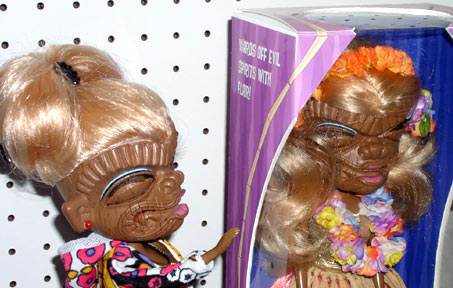 Available from http://www.mulletheadtoys.com/

and I found this pair of unsigned tikis at a plush toy booth up stairs. One even had a C'AL bark turban/crown and a familiar face.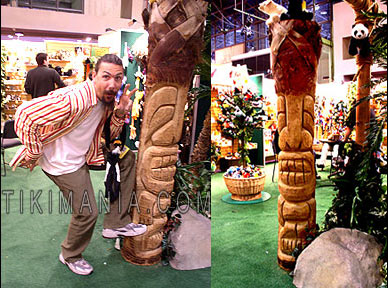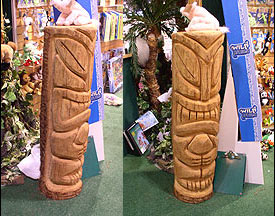 It was sunny and nice the whole week. A fitting end, A Bamboo Bar!! in the Jet Blue terminal saw Ron and I off to a cold and rainy California. The bar sported many "real" preserved palms and hand tied Black Bamboo lettering on the signage........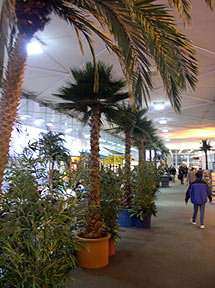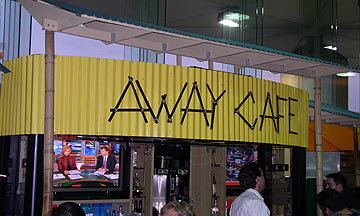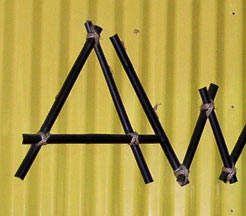 Tiki Times in NYC! Nice!



[ This Message was edited by: crazy al on 2004-02-24 00:36 ]

&nbsp


&nbsp