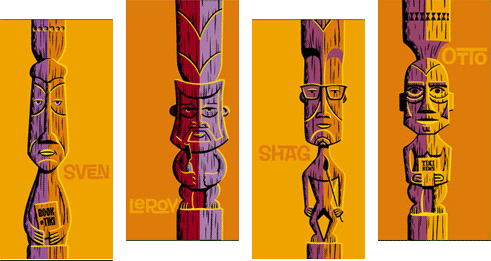 THE TIKI QUARTET
4 modern tiki legends, 4 prints
limited edition of 200 sets

Sven, author of the Book of Tiki
Leroy, legendary Tiki carver from Oceanic Arts
Shag, modern Tiki artist
Otto, publisher of Tiki News and master of Tiki Oasis


Item:

The Tiki Quartet
Set of four 5-color hand-pulled Serigraphs. Limited edition run of 200 sets.

Numbered and signed by the artist.
6" x 10" each.


Price:

$76.50 for the whole set ( ~$19 each)
+$15 US shipping

Aloha members,
We all know Shag as a master of tiki and cocktail art. And we also that know along with him, Sven, Otto, & Leroy are rightful legends in modern Tiki. So I'm very pleased to announce that Tiki Central is offering a set of Shag prints that I'm calling Four Modern Tiki Legends.
Shag came to me with the idea of offering four prints exclusively to Grand Members and I immediately jumped at the opportunity. Shag and I agreed that we wanted to offer something to the supporting members of Tiki Central that was truly a collector's item, and a good deal. Sven, Otto, and Leroy concurred with the plan, and before you know it, Shag went to work and the amazing offer you are now reading was put together.
I'm offering four Shag prints of these tiki legends as tikis themselves. These are 5-color hand-pulled prints, signed and numbered by Shag. These prints are not available anywhere else. They were originally offered only to Tiki Central Grand Members at twenty dollars a print.
The set run is limited to 200, and we only have a handful left. So to sweeten the deal, I've dropped the Grand Membership requirement plus knocked off a few dollars off the original price, which for a total price reduction of 15%! And I'm throwing in a special mystery gift, while they last.
Mahalo,
~Hanford
A special tip of the fez goes to Sven, Otto, and Leroy for their blessings!