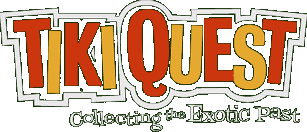 Aloha Tiki Central Members,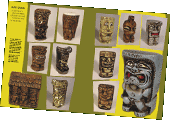 Hanford Lemoore here. If you don't already know, Tiki Central member and avid Tiki collector Duke Carter has put together Tiki Quest: Collecting the Exotic Past. It's a 193 page all-color coffee table book featuring one of the most comprehensive Tiki collections I've ever seen.
At 8 1/4 x 10 3/4 inches, the book is roughly the same size as The Book Of Tiki, and it's overfollowing with pictures of all kinds of Tiki collectables. The book focuses on mugs, with tons of great photos of an extensive selection, and is a must-have if you're an eBay Tiki collector as an unoffical collectors guide.

But I'm equally impressed with the pages and pages of other tiki collectables. Lanterns, decanters, postcards, swizzle sticks, matchbooks, dinnerware and more. There's a lot of variety here. Every time I flip through the book I find something new that I just need to have in my own collection.
The best part about Tiki Quest is, In conjunction with Duke Carter and Pegboard Press, Tiki Central offers all of our members a 15% discount -- 5 dollars off -- plus free US shipping, for a limited time. This generous offer has been made by Pegboard Press and has been extended to Tiki Central members only! Duke is truly a fanantic, and I'm very proud to be able to have this exclusive offer available to our members!
Here's what you get: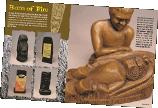 Autographed copy of Tiki Quest
(193 pages, full color)
FREE Tiki swizzle sticks designed by the author (while supplies last)
5 dollar discount (Tiki Central members only)
Free shipping in the US


This offer is not going to be around forever!

Order now and get the exclusive Tiki Central discount and free shipping for a limited time only! Include your Tiki Central Member name in the order.
Or visit Tiki Quest's offical website for more info: pegboardchicago.com