IMAGE INDEX
1 The Car Wash
2 Entrance
3 Easter Island Pole
4 Misc. Stuff
5 Tiki Bowls
6 Ship's Wheel
7 Exotic Weapons
8 Ship rigging
9 Tiki Statue Display
10 Fish Netting
11 Big Tiki Statues
12 Even Bigger Tikis
13 Economy Tikis
14 Tiki Hut
16 Voodoo Poles
17 Tiki Wall Hangings
18 Masks On The Hut
19 More Tikis
20 Ceiling Hangings
21 More Voodoo
22 Authentic Tiki Pole
23 Polynesian Sign
24 Info and Images

From the outside, Oceanic Arts looks like just a plain warehouse; like a Hollywood soundstage perhaps. Rather than having a typical door, Oceanic Arts has a huge warehouse door, rolled open. Approaching it I got a little nervous -- partly because I was finally there, and partially because I knew we had a scant five minutes to check it out. And I didn't think they were going to be too happy with us showing up just before closing. Still we walked inside the giant door.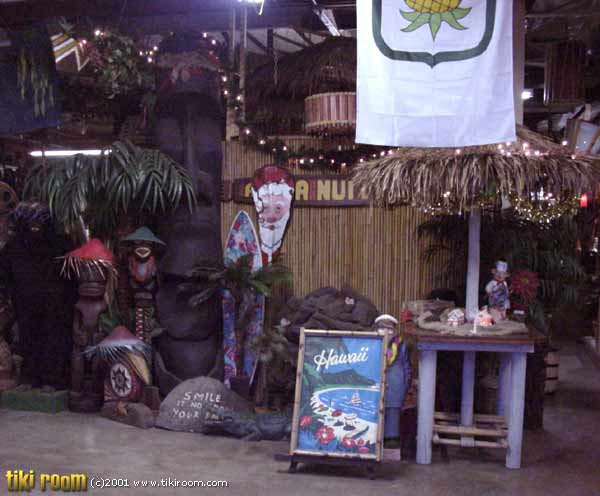 This is the view when you first walk in. The dark Tiki pole to the left of the Santa head (in the middle) is about 15 foot tall. This place is a warehouse with high ceilings. Behind the Hawaii sign is a waterfall.

One of the owers of Oceanic Arts, Bob, greeted us from the counter. Although Oceanic Arts sells mainly to restaurants and theme parks, they still run a normal over-the-counter business that is open to the public. Bob informed us that they were going to be closing in just five minutes. We thanked him and told him we'd spend the next five minutes looking around.
ON TO PAGE 3
Want to find out more about Oceanic Arts? Check out these picture-filled books:

THE BOOK OF TIKI is Tiki Culture's bible, and fearures a chapter dedicated to Oceanic Arts. Check it out on Amazon.com
NIGHT OF THE TIKI features carvings from Oceanic Arts' cofounder Leroy Schmaltz, as well as art by Shag and authentic oceanic carvings. Check it out on Amazon.com