IMAGE INDEX
1 The Car Wash
2 Entrance
3 Easter Island Pole
4 Misc. Stuff
5 Tiki Bowls
6 Ship's Wheel
7 Exotic Weapons
8 Ship rigging
9 Tiki Statue Display
10 Fish Netting
11 Big Tiki Statues
12 Even Bigger Tikis
13 Economy Tikis
14 Tiki Hut
16 Voodoo Poles
17 Tiki Wall Hangings
18 Masks On The Hut
19 More Tikis
20 Ceiling Hangings
21 More Voodoo
22 Authentic Tiki Pole
23 Polynesian Sign
24 Info and Images

Sitting in a display case against the wall were these smaller tikis. I think largest one was 2 feet tall or so.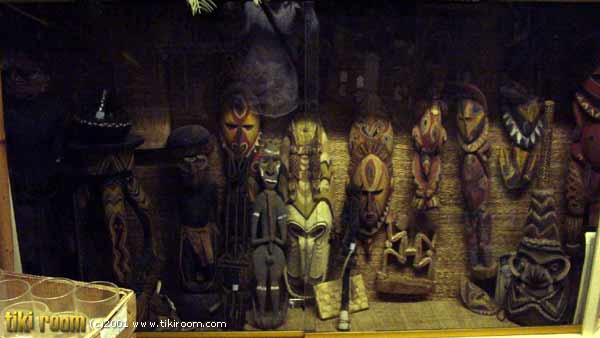 All of these tikis looked very old, with a definite Disneyland Adventureland look to them. Here is a brighter but less moody pic of the same statues where you can see more details.
ON TO PAGE 10
Want to find out more about Oceanic Arts? Check out these picture-filled books:

THE BOOK OF TIKI is Tiki Culture's bible, and fearures a chapter dedicated to Oceanic Arts. Check it out on Amazon.com
NIGHT OF THE TIKI features carvings from Oceanic Arts' cofounder Leroy Schmaltz, as well as art by Shag and authentic oceanic carvings. Check it out on Amazon.com