Once Bob told us we had time to check the place out I relaxed a little. Taking a look around I realized that the entire place was decked to the nines with all sorts of great exotic artifacts.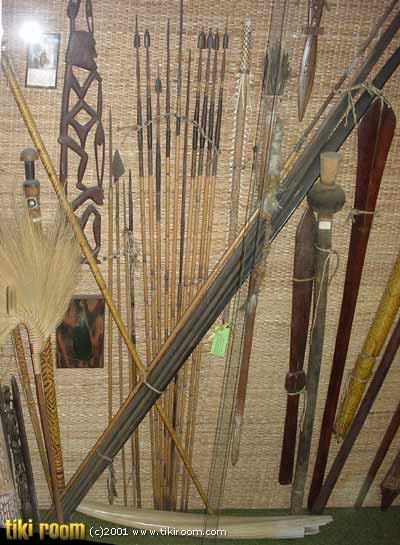 This is a display case of truly exotic weapons. The picture doesn't show it but these all look very old and authentic. Hard to say if they actually are authentic or not, but they definitely had a really old look to them.
UPDATE 1/20/2001
Regarding the weapons here (and other artifacts above them, including these I believe), Bob writes:

"The artifacts on the east wall are all authentic New Guinea and nearby islands we gathered on our 1960 trip to the South Seas. They are authentic and valuable, some being quite rare. Many items from the Australian Aboriginal areas near Darwin."
So my hunch was right -- they are authentic.
ON TO PAGE 8
Want to find out more about Oceanic Arts? Check out these picture-filled books:

THE BOOK OF TIKI is Tiki Culture's bible, and fearures a chapter dedicated to Oceanic Arts. Check it out on Amazon.com
NIGHT OF THE TIKI features carvings from Oceanic Arts' cofounder Leroy Schmaltz, as well as art by Shag and authentic oceanic carvings. Check it out on Amazon.com