IMAGE INDEX
1 The Car Wash
2 Entrance
3 Easter Island Pole
4 Misc. Stuff
5 Tiki Bowls
6 Ship's Wheel
7 Exotic Weapons
8 Ship rigging
9 Tiki Statue Display
10 Fish Netting
11 Big Tiki Statues
12 Even Bigger Tikis
13 Economy Tikis
14 Tiki Hut
16 Voodoo Poles
17 Tiki Wall Hangings
18 Masks On The Hut
19 More Tikis
20 Ceiling Hangings
21 More Voodoo
22 Authentic Tiki Pole
23 Polynesian Sign
24 Info and Images

Right as I was paying for the tiki mugs I bought, I spotted this strangely familiar sign hanging from the rafters. I think this is a sign from the Polynesian at Walt Disney World in Orlando Florida. I didn't get a chance to ask, but either Oceanic Arts made all the signs for the Hotel, or they somehow got a hold of some "surplus" and hung it up as a trophy.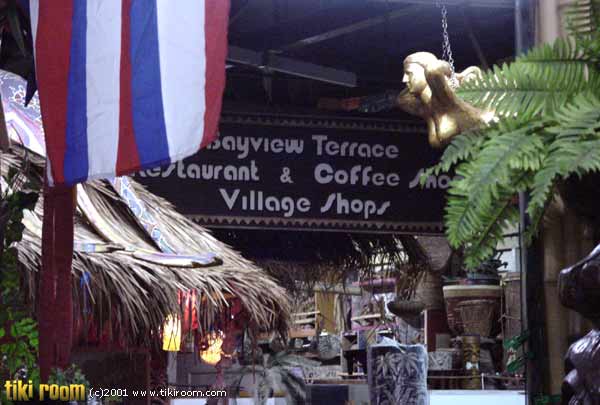 UPDATE 01/20/2001
Bob writes about the sign:
"The sign from the Polynesian Village Hotel at DisneyWorld is one of 110 signs we did for the project. This sign had a wrong line of info on it so we had to make another. These were done in the 60's and are still at the park."
Again, my hunch was right! I guess I just can't forget something as memorable as those signs. While they are Tiki per se, they definitely have a style and look that sets them apart from modern day architecture.
ON TO PAGE 24
Want to find out more about Oceanic Arts? Check out these picture-filled books:

THE BOOK OF TIKI is Tiki Culture's bible, and fearures a chapter dedicated to Oceanic Arts. Check it out on Amazon.com
NIGHT OF THE TIKI features carvings from Oceanic Arts' cofounder Leroy Schmaltz, as well as art by Shag and authentic oceanic carvings. Check it out on Amazon.com